Children love recorders, and recorders can change their whole musical outlook.
Recorders are a special part of a well-rounded music education. They are wonderful instruments with a long and rich history, and they provide students with an ideal way to experience the joy of instrumental performance. Throughout the history of Music K-8 magazine, we have tried to provide a wide variety of music, and through Plank Road Publishing we offer a number of other recorder resources. But when we created our unique magazine, Recorder Classroom, it allowed us to approach the material in a more dynamic fashion.
Currently, there are two volumes and two special edition issues. Here's what you will find in each of them:
Lots of Great Music & State-Of-The-Art Recordings! - As you would expect, we have included lots of music in a variety of styles from top composers and arrangers, including many of the writers you know from Music K-8. (You can hear all of the carefully arranged music from both volumes here on RecorderClassroom.com.) And the recordings are first class, with top musicians and the same excellence you have always gotten from Plank Road Publishing.
With lots of variety... There have also been many types of recorder music, including Orff arrangements by Norm Sands, exercises, warm-ups, technique builders, and lessons designed to encourage creativity. And we have kept the National Standards in mind to help you plan your lesson objectives. Recorders are such a great way for kids to experience music, we wanted to give you a large set of tools to help you share them.
Our regular feature Recorder Method Energizer has presented intriguing new settings of tunes that are common to many methods, as well as techniques to enhance the learning experience. The requirements for your students have been the same, by and large, but the arrangements have helped you keep the students more interested, especially during early lessons. Surveys have told us that these are some of our most popular tunes.
Special Contributors with Special Resources. We are especially excited about the regular column from master teacher Artie Almeida called Fun Foundations For Recorders. Her articles have that special flair that teachers have learned to love in her myriad of popular resources for music educators. Her articles begin with beliefs about the recorder as a teaching tool. Ask any current subscriber and they will tell you how much they gain from her thoughts and activities.
Amazing Online Content! Every issue has a wide array of great content available on our web site. Just the nature of the subject matter makes downloadable material more appropriate. We offer optional parts, scores, teaching aids, and files for color printing and projection. There are articles by Norm Sands, humorous visits from Zippy Toad, and loads of amazing online resources that you won't find anywhere else.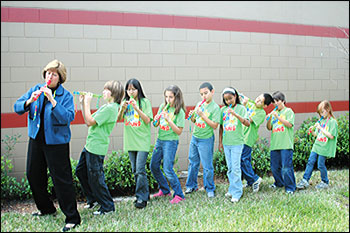 We love a parade! Artie Almeida infuses her
teaching with a spirit of fun and the love of music.
(Photo by Lauren Mickler.)
---
NOTE: Yes, you can actually order a Downloadable Back Volume with a purchase order or check. However - this involves a Log In at the Recorder Classroom web site. Visit our Help Page for more information. We wanted to give you this option to help you get the most from your budget.